March 20 - 23, 2014
Montezuma Well | Heart of the Mother
Spring Equinox | Montezuma Castle National Monument, Arizona
Indigena created and organized the first women's gathering with the International Council of Thirteen Indigenous Grandmothers, a global alliance of spiritual elders, medicine women and wisdom keepers from the Amazon rainforest, the Alaskan Tundra of North America, the great forest of the American northwest, the vast plains of North America, the highlands of central America, the Black Hills of South Dakota, the mountains of Oaxaca, the desert of the American southwest, the mountains of Tibet and Nepal and from the rainforest of Central Africa.
Four hundred women attended the four-day ceremony from sixteen countries. This intergenerational convening braided ancestral lineages into a tapestry and symbol of unity. In this unique, hands-on learning environment and cultural exchange, traditional teachings were shared. The focus was on indigenous ways of life to preserve lands, medicines, language, and ceremony for future generations.
The gathering was held on protected land in collaboration with the National Park Service. This partnership provided ceremonial access to Montezuma Well, a site considered to be sacred which filters over 1.4 million gallons of water every day through its limestone basin, creating a home to many endemic species. The ceremony was held on World Water Day, upholding Native rights under the American Indian Religious Freedom Act.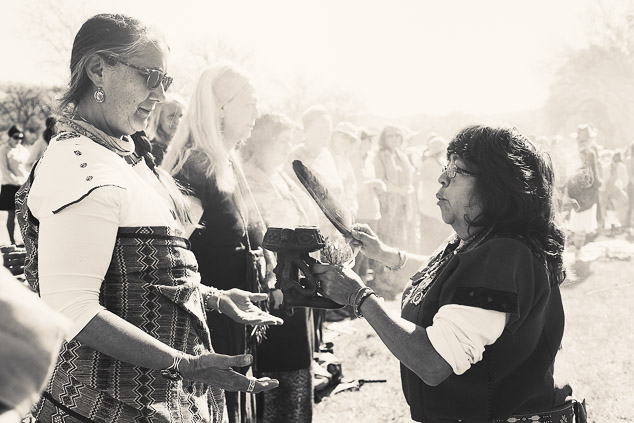 The International Council of Thirteen Indigenous Grandmothers